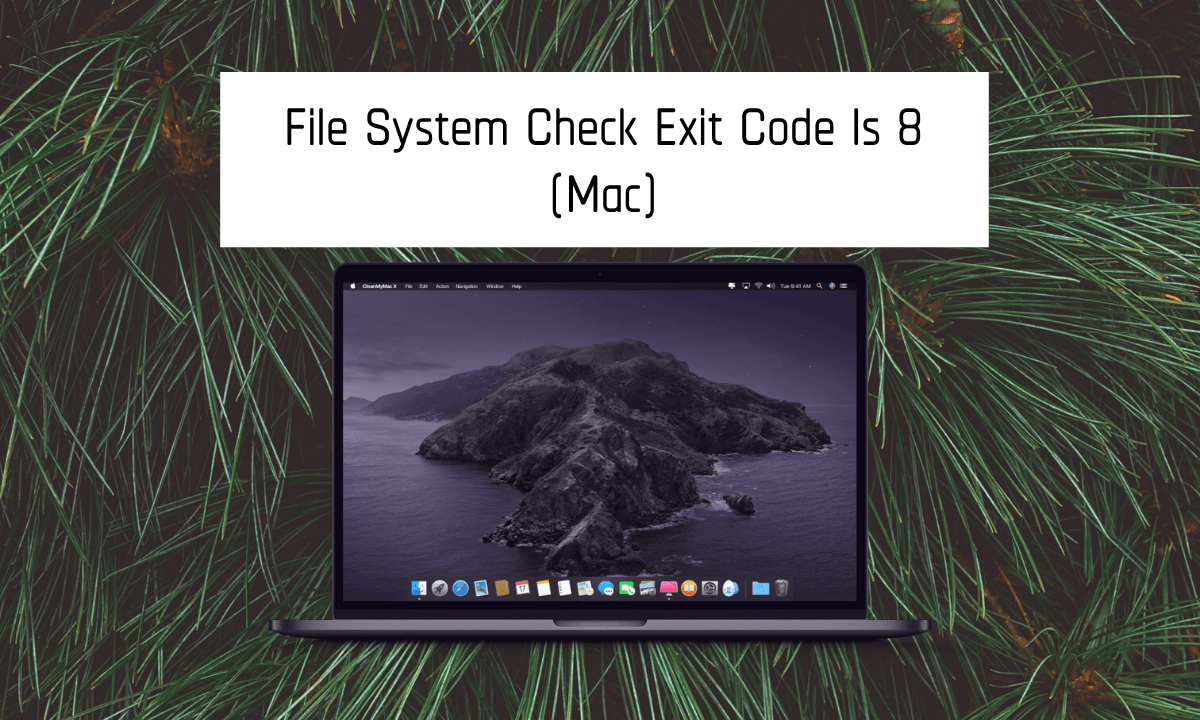 Won't you face file system check exit code is 8 anytime? Usually, the Mac OS X is no need to get repair the issues or the disk permissions if any. This is because the Mac is built with various tools and number of functionalities in a perfect scenario. Resulting in a perfect repair in disk, partition and file system errors. Among various, disk utility first aid is mostly preferred by various individuals. Commonly, when you found an exit code 0 will be a good thing. It means no error is found.
But when you see file system exit code is 8, indicating corrupted file system. This is especially found at the time of system check. The error has a great chance to occur at both internal and external hard drive. The cause might be due to the happening of sudden power failure, virus attack, catalog file corruption, invalid volume header and much more. Therefore, try to solve file system check exit code is 8 by implementing below methods successfully.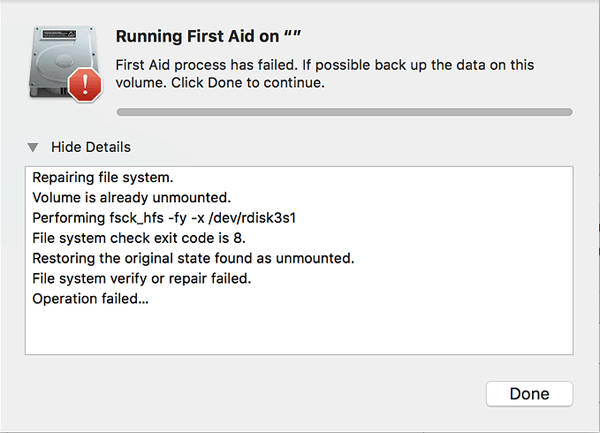 File System Check Exit Code Is 8!!!! How to Solve In different Ways
Well!!! Solving file system exit code is 8 error is not that difficult comparatively. But there are major chances of losing data while you perform the methods to fix. As it overrides the original data. So it is better to maintain a backup especially when you have undergone through all the process respectively.
Make Use of First Aid in Disk Utility
One can implement disk robustness check through disk utility application that includes Mac OS X.
Apple has taken major responsibility of refreshing and re-building the respective utility's interface on the Mac OS X 10.11 El Capitan.
As a result, it might look a bit unique from the older one.
In order to introduce it, press Command+Space-> type disk utility-> click on enter. Navigating to the respective application folder is another way to launch it. Double click on utility folder-> and then click on disk utility.

Now choose the disk or the partition named as Macintosh HD by default. And finally, click on First Aid button.
Choosing either is completely depends on which the user picks in the sidebar respectively.

Therefore, click on Run-> if in case it found the errors, fixes automatically.
If you like to view the information about any errors, click on show details to view in detail.
There, if you notice, the messages like Storage system check exit code is 0 and File system check exit code is 0 will appear. When you get an exit code of "0", that means no errors were found.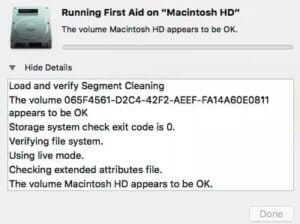 Boot into Safe Mode
This is the most simple way to solve the file system check exit code is 8 without causing any kind of bugs. Implement by following accordingly.
Safe mode at times can be called as Safe boot that check and repair to fix all such issues.
Restart the mac and hold shift when the booting process is going on. Sign in by providing the respective password and the Mac without any fail. All this will take a while to complete.
After successful login, dis check is perfectly done. All ready to reboot the Mac right now.
Run First Aid in Recovery Mode
While you implement the following steps, the Mac at times will definitely get unable to repair. As Mac run on live mode held responsible for it. Changes cannot be made to the respective system at the time of running. So in order to resolve this, only one solution to perform the system in recovery mode. As a result, now the Mac is able to fix all the type of errors caused successfully. Follow the below steps accordingly to get optimal results in recovery mode.
Restart the Mac.
Press and hold the commant+R when booting process is going on.
Release the keys when you get the progress bar appearing on the screen. This results in the Mac getting successful in recovery mode.
Now at OS X Recovery, click on disk utility-> choose the drive or the partition and then click on first aid button. Doing so will fix the issues if any.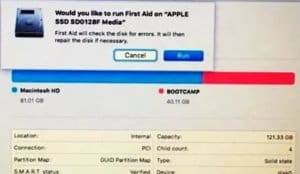 Try to Use fsck in Single User Mode
Performing the system in recovery mode fixes most of the times. But if you fail to fix an error like file system check exit code is 8, is there any option to resolve? Yes. when you face such a situation, try to boot the Mac in Single user mode. And then run the fsck command without any fail. Performing so will definitely fix disk utility exit code 8. Simply follow the instructions accordingly.
Start the Mac in single user mode. Restart-> Press and keep holding Command+S while the booting process is going on.
This usually results in a single user mode that delivers text-mode terminal successfully.
Now, enter the following command in the respective terminal-> tap on entering in order to initiate a system file check.
[su_note]
/sbin/fsck -fy
[/su_note]

So that the command runs in all the phases without fail. Therefore, results by showing a pop-up "volume[name] appear to be ok" once it is done.
If any issues have arisen at the time of the process, the user can notice the pop-up like file system was modified indicating fsck command found a lot of errors when it gets repaired.
While you notice the fsck command displaying disk is okay, it's time to enter the following command at the respective terminal-> Press enter.
[su_note]
reboot
[/su_note]

This makes the system reboot and then return back to the login screen successfully. This has to be done only when you encounter a few errors in the respective Mac. If it does well, no need to get into this method.
Final Verdict
I hope you are clear enough of all the methods applied accordingly. For more information or any doubts, can contact us by dropping a comment in the below rectangular section. If you like the article, share with friends and also on social networking sites. Thank you. Stay in touch with PhoneGnome for more perfect fixes.[/fusion_text][/fusion_builder_column][/fusion_builder_row][/fusion_builder_container]